Victoria celebrates Labour Day every year on the second Monday in March. It is a commemoration of the labour union movement and its fight for better working conditions.
Sites and objects on the Victorian Heritage Register reveal the history of this movement, and show us how Labour Day is celebrated in our state today.
Stonemasons
Law School Building and Old Quadrangle H0920
Parliament House H1722
Victoria changed rapidly in the 1850s, with thousands of immigrants due to the gold rush. Builders and other labourers worked long hours to construct new public buildings.
On 21 April 1856, a group of stonemasons stopped their work at the new University of Melbourne. They were constructing the new law school building. Looking at the building today you can imagine how tiring this would have been. The building is made of large freestone blocks, with large arches and intricate carvings. To get the work done, the stonemasons often worked over ten hours per day.
Sick of their poor working conditions, the stonemasons marched to Parliament House (which was also under construction). Because of their strike, workers employed at public works were given eight-hour workday with the same pay. On 12 May 1856, another procession was held to celebrate this victory. This was the origin of Labour Day.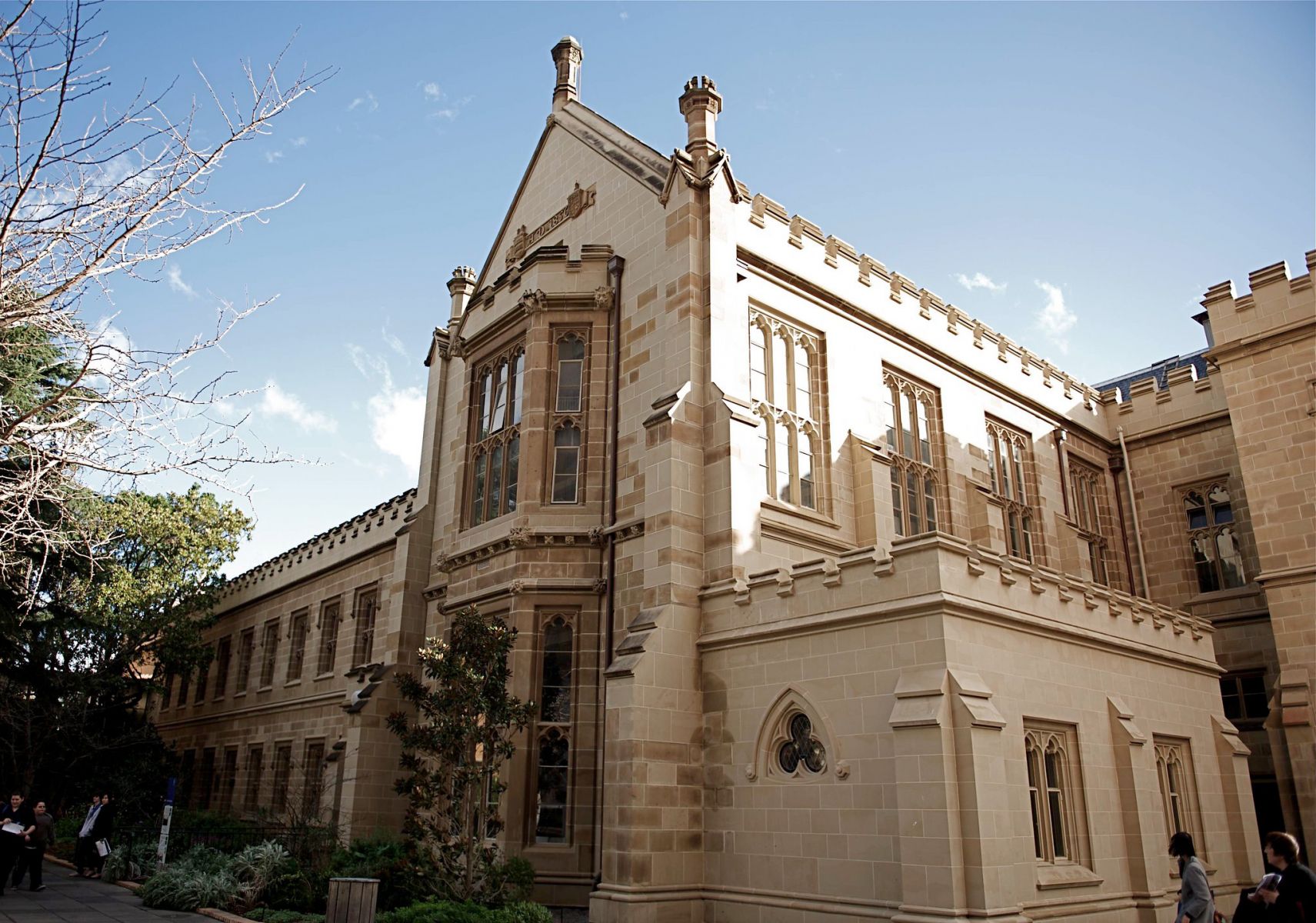 Trades Halls
Melbourne H0663
Ballarat H0657
Bendigo H1333
Melbourne is home to Australia's oldest and largest Trades Hall. Construction started in 1873, at the site of a temporary hall which opened in 1859. Trades Halls were also constructed in the regional centres of Bendigo (started 1896) and Ballarat (started 1887). Today, these three halls are the only surviving purpose-built trades halls in Victoria. They are a place for trade unions to meet and coordinate their activities.
The Trades Halls reflect the strength of the trade union movement throughout the late nineteenth century. The stonemason's march in 1856 had not guaranteed the eight-hour day for all workers, but it inspired others to fight for better conditions.
Over the next sixty years, more and more workers won the right to an eight-hour day. In 1916 it was finally made the law in Victoria, with the Eight Hours Act. In 1948, a 40-hour week was given to all Australians.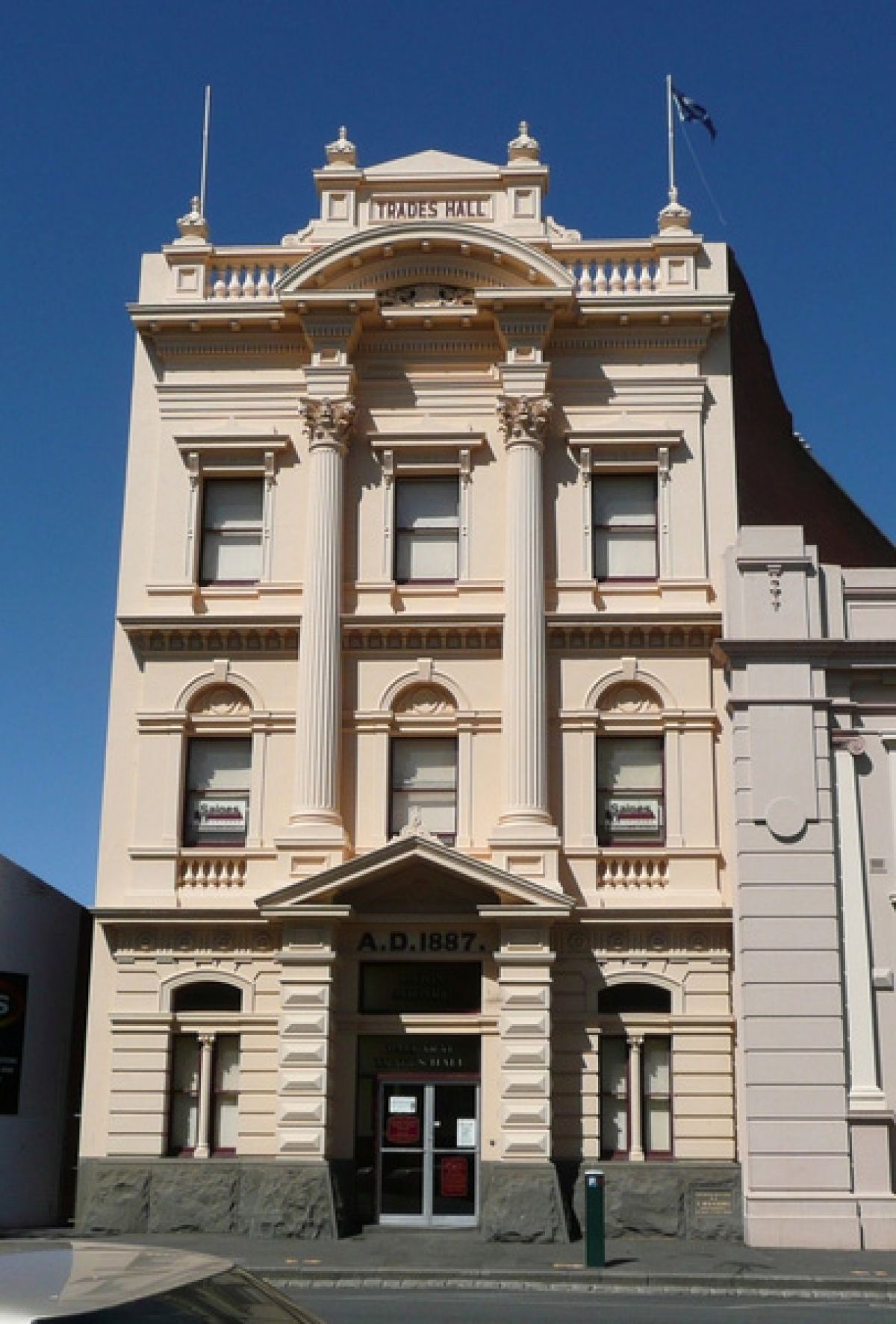 Eight hour monument
Eight Hour Monument H2084
This monument was unveiled in 1903 to commemorate the eight-hour day movement. It was moved to its current location outside Trades Hall in 1924. It is still an important meeting place for the union movement and a key part of their Labour Day procession.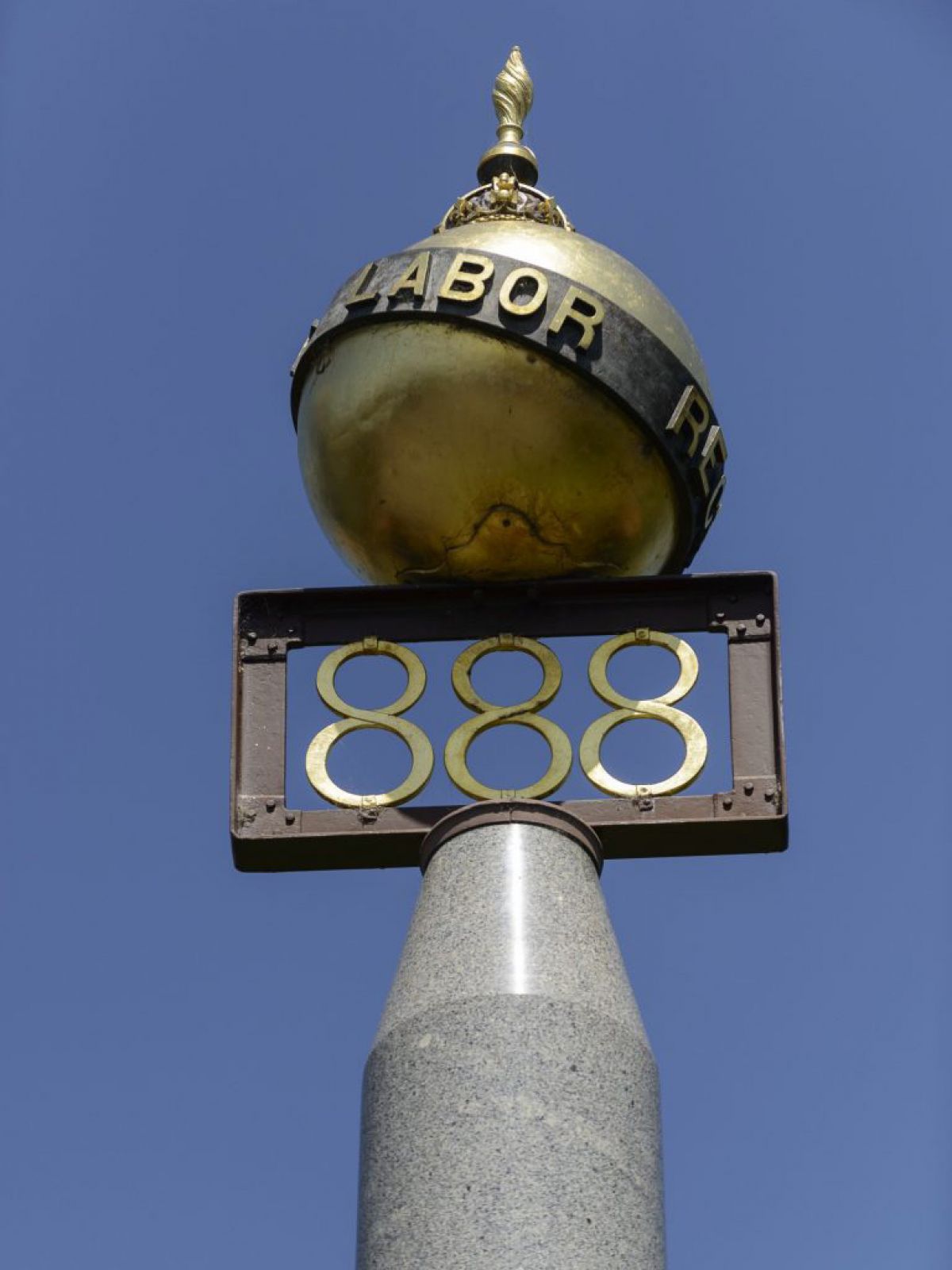 Trade union banners
Eight Hour Day Trade Union Banners H2086
Banner of the Amalgamated Miners Association of Australasia H2384
Waterside Workers Federation Banner H2385
Stawell Amalgamated miners Association Banner H2383
Banners are a powerful symbol of the union movement. They represented specific trade unions and contained symbolic and political images and mottos. Made of painted cotton or canvas, the banners could be up to four metres long. At Labour Day marches they would be carried by floats and horse drawn carriages. Today, only twelve union banners survive. Eight of these are held at Melbourne Museum, while others are in West Melbourne, Maldon and Stawell.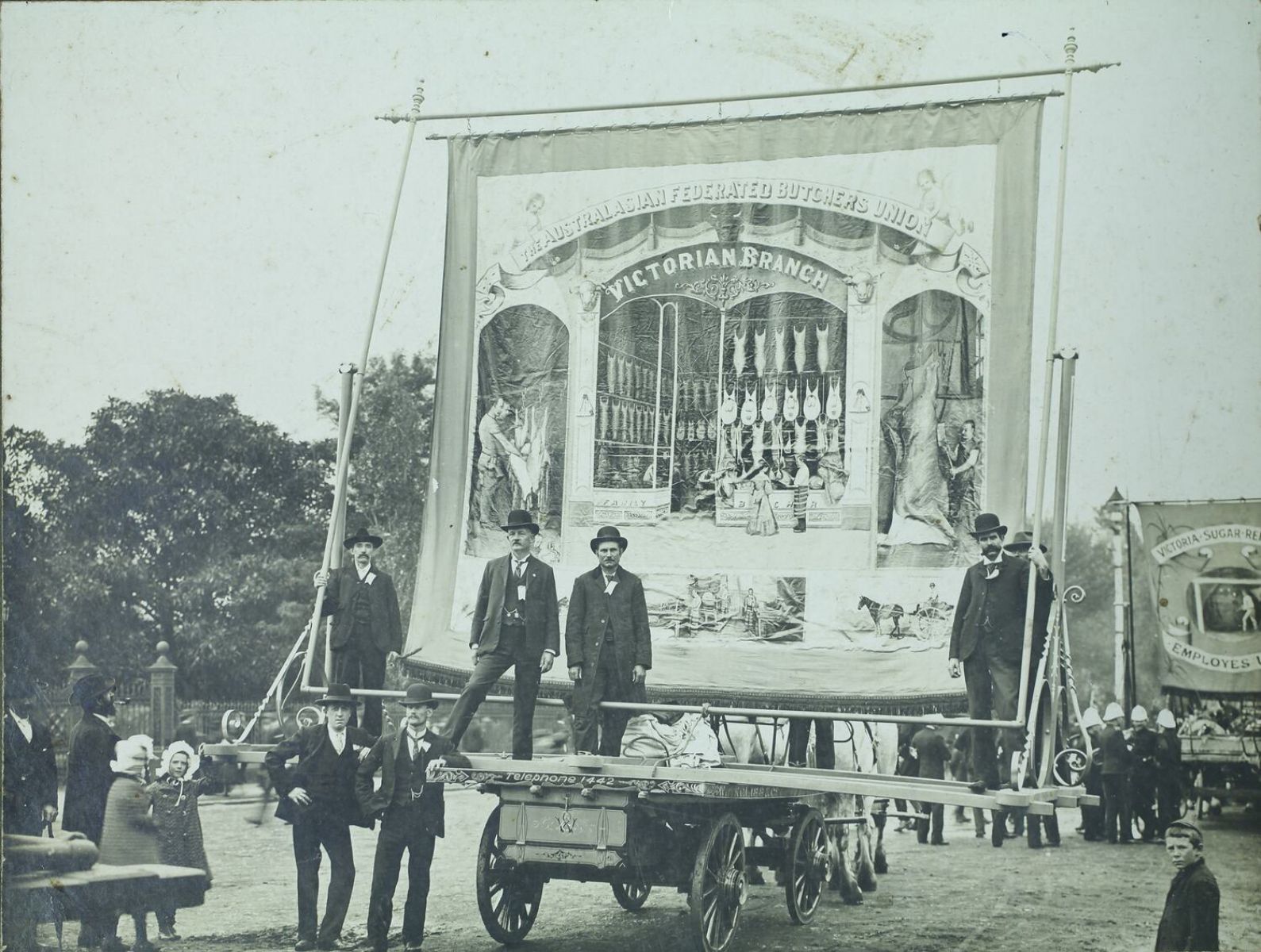 Moomba
St Kilda Road H2359
Domain Parklands H2304
The Moomba Festival is held over the Labour Day long weekend. It is the largest free community festival in Australia and has been going since 1955.
The Moomba procession is a key part of the festival, with floats and performances. The march traditionally moves down St Kilda Road and into the Domain Parklands.
If you are going to Moomba this year, make sure to check out other nearby VHR sites. These include the National Gallery of Victoria, Arts Centre, Former Victoria Police Depot, Former Observatory Site, Shrine of Remembrance, and Speaker's Corner.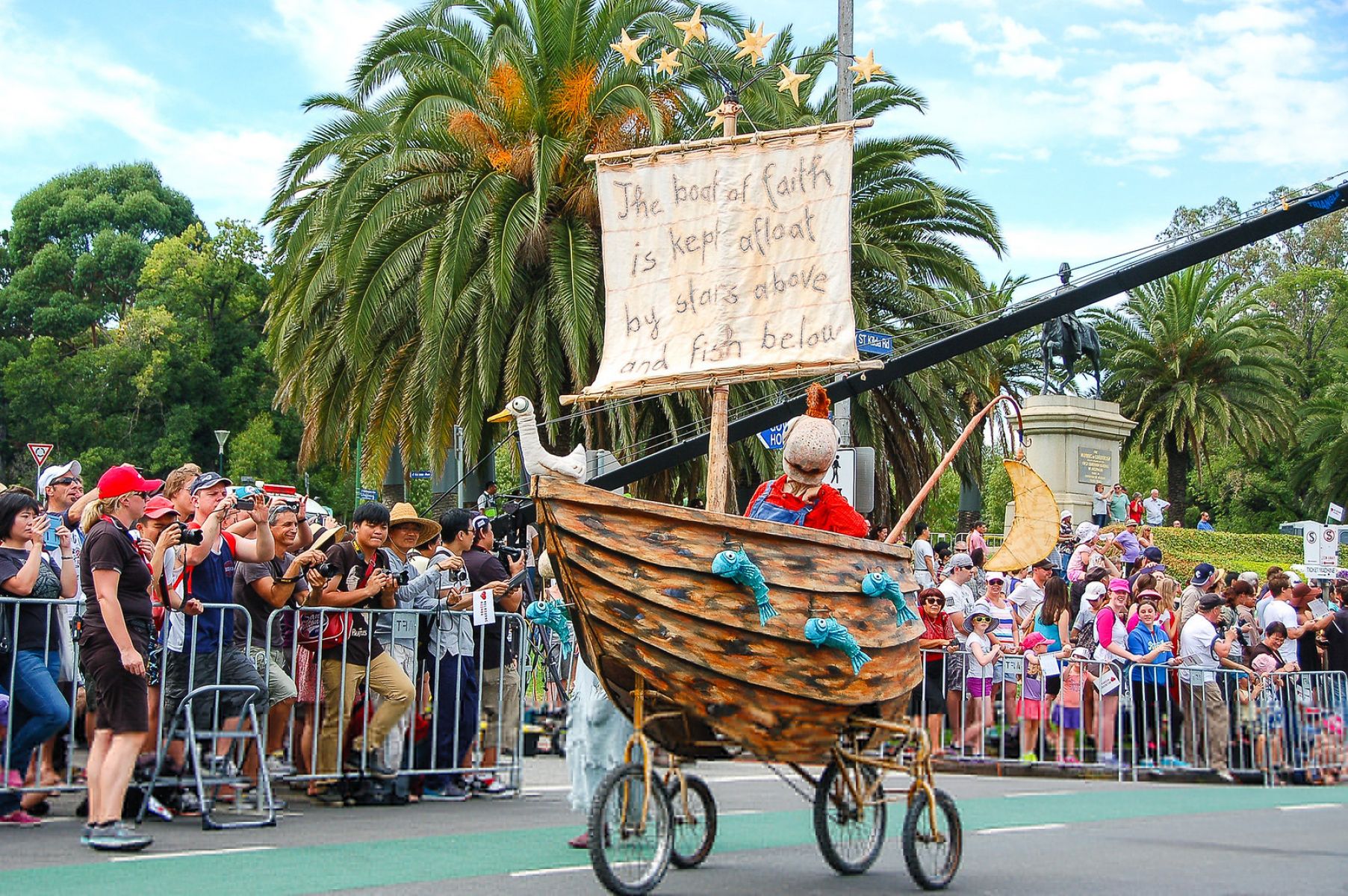 Page last updated: 18/04/23