Loong is thought to be the oldest complete Imperial dragon in the world. He is more than 120 years old and over 30 metres long. He paraded in Bendigo's Easter fair from the late 1800s until 1970.
The Sing Cheung workshop in Foshan, China, made Loong by hand using silks, mirrors, bamboo, kingfisher feathers, beads, and papier-mache. Bendigo's Chinese community then brought him to Victoria.
Loong's pearl and flame regalia accompany him on parade. The pearl entices him to play, while the flame represents his power. But now, given his advanced age, Loong spends most of his days sleeping at Bendigo's Golden Dragon Museum where he is on public display. He is of cultural significance to the local Bendigo Community as well as the State of Victoria. Loong is listed in the Victorian Heritage Register (H2120), which means he is of State-level heritage significance.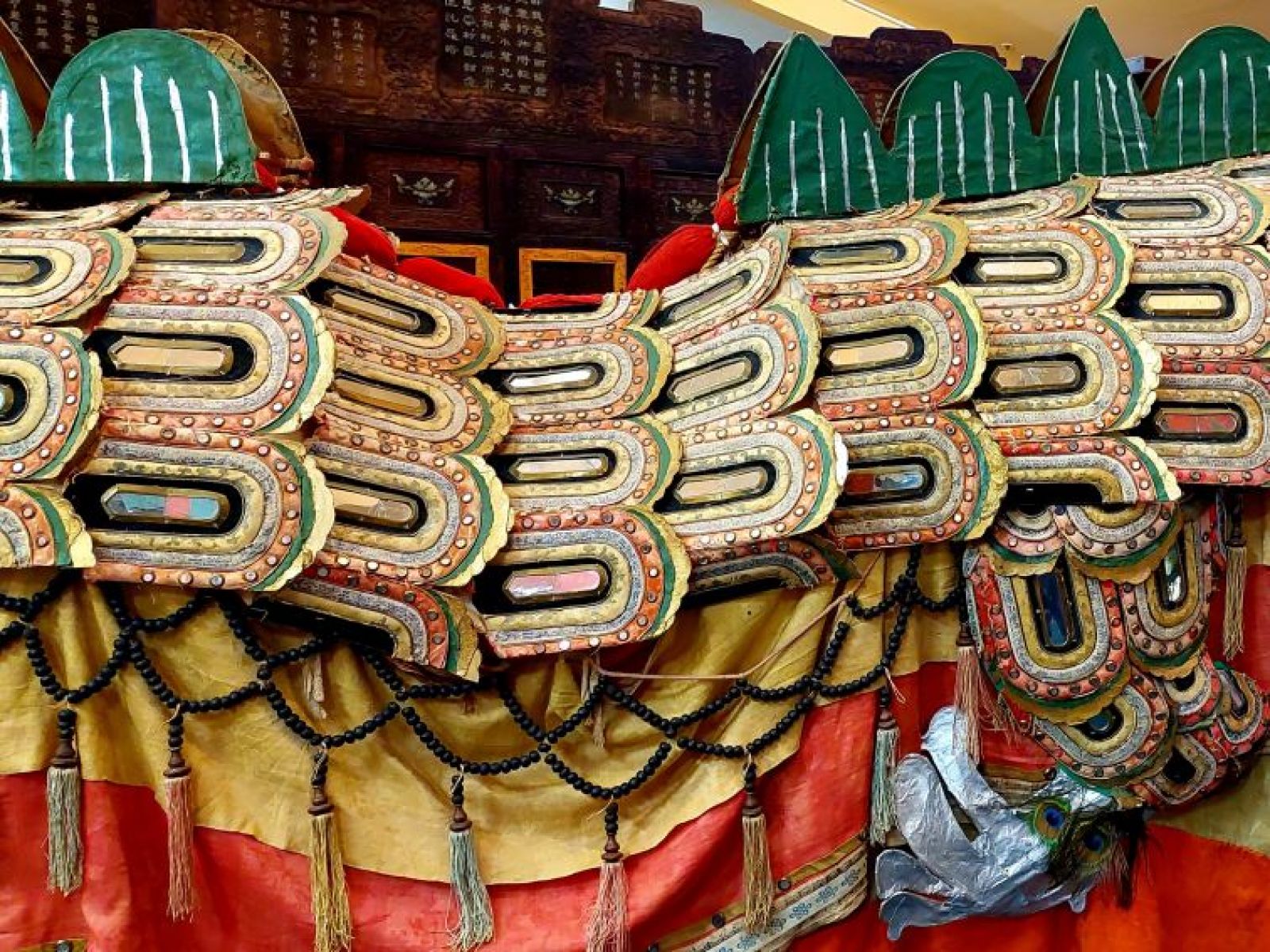 Conservation works
After a long career of ceremonial parades, Loong and his regalia have become fragile. Heritage Victoria funded a project to repair and restore Loong in Round 6 of the Living Heritage Program. The $133,000 grant funded cleaning, repair and stabilisation of his bamboo structure and fragile surface.
Works included removal of old repairs, creation of new support stands, reattachment of loose decorative elements, the removal of dust from along his entire body as well as the cleaning of his 1,376 scales. His pearl and flame were also carefully conserved. Members of the Bendigo Chinese Association worked alongside conservators from Grimwade Conservation Services to ensure Loong's treatment is best practice and culturally appropriate.
Pilot sustainability study
As part of the project, the Grimwade conservation team also looked at their carbon footprint with the aim of reducing emissions. Working with climate consultants Pangolin Associates, the team analysed the project in detail. This included everything, from the number of zoom meetings, travel and equipment used, to energy use, waste, and consumables. From there, they identified opportunities for reducing emissions.
Changes were made to find more sustainable options. These have included increased use of public transport, recycling of equipment and materials, buying supplies from local Bendigo businesses, and a review of lighting and material choices.
National awards
The positive and wide-ranging benefits of the project have recently been recognised through two significant national awards:
Winner of the Archival Survival Award for Small Organisations at the 2022 Victorian Museums and Galleries Awards by AMaGA Victoria.
Winner of the 2022 AICCM Outstanding Conservation Treatment of the Year award.
With conservation works now complete, Loong can rest easily on his new supports until the next time he is ceremonially awakened.
Project facts and figures
$133,000 Living Heritage grant
2,375 hours of conservation work
1,376 dragon scales
12 conservators
6 student conservators
41 Chinese community volunteers
1 pilot study in conservation sustainability
2 national awards
View more highlights from the Living Heritage Program.
Page last updated: 06/06/23